---
Welcome to our web site! We encourage you to browse our pages and learn more about us, and by all means visit our store.

We are a small town privately-owned rare bookstore situated in Kingston, Rhode Island, in a historic 1897 building that previously housed a general store. Our proprietor, Allison Goodsell has bought and sold books and magazines as well as post cards, vintage photos & paper ephemera in southern Rhode Island for over 20 years.

Our store is situated near the southern coastline of Rhode Island along the western shores of Narragansett Bay. Travellers will enjoy our proximity to historic Newport, Rhode Island, just across Narragansett Bay and the wonderful scenery of the Jamestown & Newport bridges. Nearby attractions include the South County Museum, Kingston Railroad Station (circa 1875) and the University of Rhode Island, Kingston Campus, a handsome mix of ivy-covered buildings and contemporary architecture on 1,200 acres.

Kingston's colonial past is alive, well, and beautiful. Quaint and cozy, it's tucked nearby some of the finest beaches in New England. Kingston hosts a full array of cultural and social activities, from chamber music festivals to clambakes. Americana at its best, and yours to enjoy.
---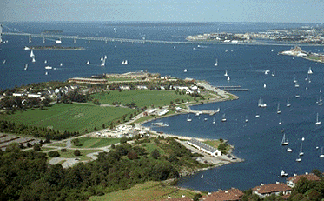 ---
[Rare Books] [Postcards] [Paperbacks] [Paintings & Prints] [Ephemera] [Vintage Photos]
This page was last updated on 05/05/2005 .
Designed by Bay State Systems
Webmaster: webadm@comcast.net